About PhantomALERT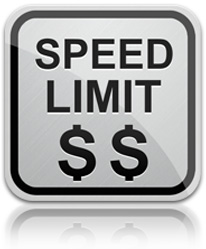 PhantomALERT, Inc. provides traffic-enforcement and safety location data to drivers with GPS devices and smartphones. In short PhantomALERT helps fight distracted driving. Its dynamic database transforms GPS/navigation devices and smartphones into a 100% legal traffic safety and advanced warning systems. Through their devices, PhantomALERT customers receive accurate and timely audible and visual alerts of enforcement and safety loctions. In short, PhantomALERT helps drivers avoid traffic tickets by helping them obey traffic laws. Audible and visual alerts pop up on customers GPS or smartphones alerting them to approaching red light cameras, speed cameras, speed traps, school zones, dangerous intersections rail road crossings and more. Each day, more than 200,000 drivers receive traffic tickets for disobeying traffic rules in the US and Canada alone, yielding an astonishing $6 billion in fines annually. PhantomALERT' s products provide drivers with a 'heads-up' warning system that helps them become safer, alert and ticket free.
Our Mission
Our mission is to help motorists drive alert, safe and ticket free by helping them obey traffic laws using GPS and Smartphone technology. We believe the best way to get out of a ticket is to never get one in the first place. With "Drivers Helping Drivers" we are confident we can make driving safer for all motorists. We are committed to fighting distracted driving by helping drives use theirs smartphones and GPS to stay focused and pay attention to their suroundings.
Products & Services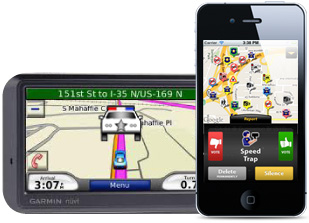 PhantomALERT has the most comprehensive and accurate database, with more than 400,000 points of interest (POIs) of traffic safety locations in the continental United States and Canada—red-light cameras, speed cameras, speed traps, school zones, railroad crossings, dangerous curves, and so forth. The company's proprietary data-acquisition, management and verification combines corporate with user- generated location data, effectively "crowdsourcing" its community of drivers in a social-networking strategy. This process is easily scalable allowing any driver from any part of the world to contribute to and use our datasets. Global expansion is also in progress currently serving customers in South Africa, Australia and Europe. PhantomALERT also provides over 15,000 live traffic camera feeds to smartphone users.The company derives revenue from Consumer Products/Services and Business Licenses. In Consumer Products/Services, the company's database of traffic-enforcement,-safety data and live traffic camera feeds are marketed directly to consumers either as software—downloads for Portable Navigation Devices (PNDs)/smartphones—or hardware, in the form of PNDs pre-loaded with the database. Business Licenses are multi-year arrangements with makers of hardware (such as PNDs) and other firms in the business of location-based services (LBSs)—such as map- and navigation-system providers—allowing them to market PhantomALERT' s database as a value-added service to their customers.
Our Customers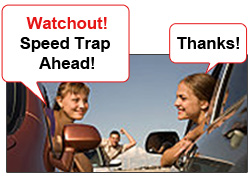 The target market is all drivers who wish to become safe, alert and avoid costly tickets. Our traffic camera feed is also a must have for any driver that hates traffic jams and gridlock. It literally lets you see what traffic looks like in real time helping you avoid unnecessary delays and also plan faster routes. The US and Canada currently comprise more than 200 million motorists, of which there are 40 million GPS-device owners intersecting with some 80 million GPS-enabled smartphone owners. Since PhantomALERT' s products run on PNDs, in-dash navigation systems, and smartphones, the total available market is the superset of those three markets- currently an estimated 110 million devices, and projected to grow an average of 35% annually to more than 350 million devices, as shown below.
Cutting Edge Technology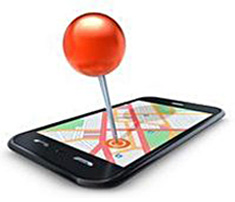 PhantomALERT's main asset is its high-quality, proprietary database of enforcement and road-hazard locations, as well as live traffic camera feeds. A unique characteristic of the database is that it is constantly being improved through crowdsourcing user-generated data—hundreds of POIs are added and verified daily by the community of PhantomALERT customers as they encounter speed traps, speed cameras, red-light cameras, and other enforcement locations. To capture user inputs, the company has created an easy-to-use POI reporting/verification tool on its website. Utilizing Google Maps and proprietary software, the system enables drivers from all over the world to report and verify traffic enforcement and road-safety locations and immediately download the information into compatible devices. Additionally, PhantomALERT has acquired the names and contact information of public relation officers for 4000 Police Departments. The company plans to enlist the support and participation of Police officers to contribute to the PhantomALERT's database. Police will be encouraged to use PhantomALERT as a tool to share and alert the driving public of dangerous roads, curves, intersections and also areas where they plan to set up speed traps and DUI check points. PhantomALERT is confident Police departments will actively participate as several have already endorsed the service, see it as a safety tool and a force multiplier. Moreover, this partnership will be good PR for police departments as they can now claim they do not set up speed traps to generate revenue and they actively publicize enforcement zones through PhantomALERT giving the driving public a fair warning to obey traffic rules. A safety and enforcement database created by drivers and Police will be the most accurate, credible and sought after data on the market that millions of drivers will subscribe to and LBS companies willing to pay premium licensing fees. In other technology areas, PhantomALERT has several projects in development. These include smart-learning and augmented-reality traffic- camera views, location-based ad/coupon serving, and other technologies that take advantage of smartphones' motion-detection and directional capabilities. Additionally, PhantomALERT is developing a Google-Map–based tool for collecting and verifying live traffic camera views, IP-passed security camera feeds, and web cameras. Just as with our traffic-safety POI reporting tool, by utilizing our crowdsourcing techniques, millions of individuals will be mobilized to geo- tag any camera in the world creating the most comprehensive database of live traffic traffic/IP-based cameras and web cams. The company expects to file up to four provisional patents within the next few months.
Future Growth Plans – Saving Lives and Fighting Distracted Driving.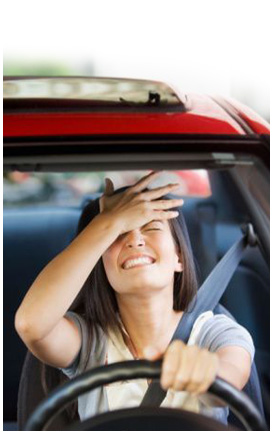 Leveraging the millions of customer that will sign up for PhantomALERT, a location based safety alerts for all types of driving hazards and natural disaster alerts.For starters, crowdsourcing and community aspect is already built in to PhantomALERT - a must attribute for a successful social businesses. All the POIs that constitute the database are generated by drivers for drivers. Drivers report and verify alerts and safety locations in real time. Based on how other drivers' rate each submission, contributors will be awarded prizes ranging from cash to product give always. This will assure loyalty and participation. Also, by design PhantomALERT apps will automatically launch whenever a customer's smart phone is moving 5-10 MPH or greater. Since drivers need PhantomALERT while driving they will allow this setting and give the app permission to automatically launch and scan for potential enforcement, safety zones and also to get live traffic camera feeds. Once activated, drivers will leave the apprunning until a destination is reached. Such reliance and functionality has the ability to make PhantomALERT the most used and recommended app by drivers for drivers. Additionally, the live traffic camera feed feature also puts the company in a position where the apps will be launched by millions of commuters that are eager to get live traffic camera updates every day before leaving home or work. This by itself will be an attractive and effective location based advertising platform for safety and disaster alerts. An app that launches automatically and stays in use for long periods of time will give advertisers multiple opportunities to serve ads at greater frequency - and frequency is the key to any successful advertising campaign. Soon PhantomALERT will pursue these goals.
Background
PhantomALERT was founded in 2008 in Washington DC by a serial entrepreneur who got tired of getting traffic tickets and decide to use technology to become a smarter, alert and ticket free driver. The best way to get out of a ticket is to never get one in the first place. Your GPS or smartphone is no longer just for navigation. It can save you from costly traffic tickets. In short our mission is to help millions of drivers avoid traffic tickets by helping them obey traffic laws. To create a community of likeminded drivers who help each other to become safer drivers.
Investor Inquiry:
Please contact
Joe.Scott@PhantomALERT.com
Licensing OEM Inquiry:
Please contact
Joe.Scott@PhantomALERT.com
Reseller/Dealer/Affiliate Sales Inquiry:
Please contact
David.Green@PhantomALERT.com